What you need to know about telehealth
Have you used telehealth?
About six months ago, if you'd asked this question of the average person, you'd most likely have been answered with a blank stare. But the COVID-19 pandemic has changed that. And the consequent social-distancing restrictions have helped telehealth move to the mainstream.
Healthcare at a (safe) distance
Telehealth simply means visiting your doctor using the phone (or videoconference) instead of at their clinic. As of 6 March 2020, Medicare covers telehealth visits with:
doctors
nurse practitioners
clinical psychologists
licensed clinical social workers.
Doctors can diagnose, treat and manage many different illnesses and problems using telehealth. For example, your GP could use telehealth to manage conditions such as:
asthma
bronchitis
cold and flu
diarrhoea
various infections
sinusitis
sore throat
sprains
vomiting.
A telehealth appointment can also be appropriate with a specialist, or another healthcare provider. However, sometimes a doctor will need special equipment. Or they may need to provide a physical examination. In that case, you will need a face to face appointment.
Why has it taken until now for telehealth to be mainstream?
Until now, the adoption of telehealth in Australia has been fairly slow. This is despite telehealth being vital for our rural and remote communities. And it's particularly important in supporting health improvements in our Indigenous Communities.
So, what have been the main barriers to using telehealth more broadly? Some of the reasons include:
Many doctors have preferred face to face visits. There's a lingering perception that telehealth is less personal and not as effective as regular visits.
There are some concerns about set up and reliable internet access
There were questions around who would pay for the visit
There were concerns about potential violations of privacy
But now the COVID-19 pandemic has forced telehealth to the mainstream.  
Is telehealth for me?
The possible benefits of telehealth for both you and your communities are multiple and include things like:
Reduced demand on emergency services
Better access to healthcare
Better quality of service
Better clinical outcomes
Decreased costs associated with visits
Reduced inconvenience for patients
Better management of chronic and complex conditions
In a survey on telehealth conducted by the Consumers Health Forum of Australia, one respondent remarked:
"I was more relaxed in my consultation. I was in my familiar environment and the specialist and I were both at ease. I didn't have the stress of getting the two people I care for sorted before the 90-minute drive to the city hospital for this appointment. I saved money on fuel and parking fees. I didn't have to sit in a full waiting room. I didn't have to turn down work for that entire day because of the travel time and waiting room time blowouts. The benefits of telehealth are immense."
Of course, telehealth doesn't supplant regular health care completely. There will always be reasons to have face to face visits with your GP or other healthcare providers.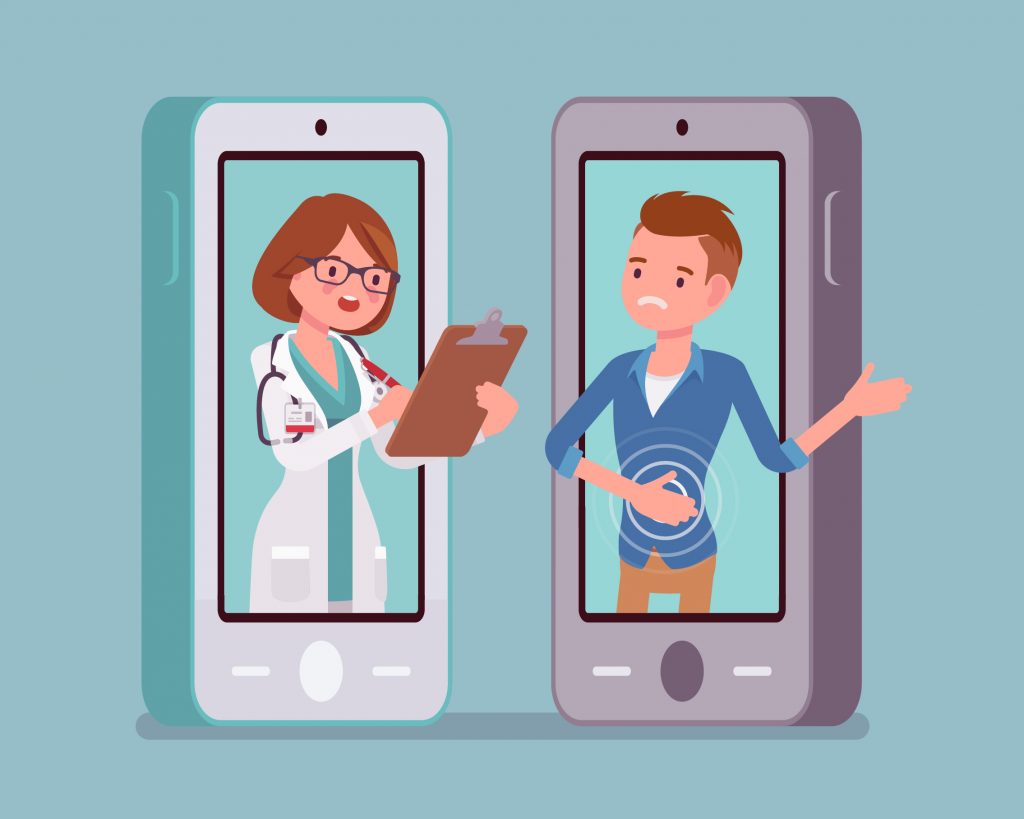 How to get the most from your telehealth appointment
You don't need any official or special equipment for a telehealth appointment. In many instances, your telephone is enough. Although if you have an appointment via videoconference you'll need access to reliable internet, along with a smartphone, tablet or computer with a camera and microphone.
Things you may need to consider for your telehealth appointment:
Make sure that you can hear (and see) each other clearly.
Make sure you are in a quiet location where you can avoid interruptions
Before you start, the doctor may need to confirm that you are who you say you are. You may be dealing with doctors who haven't met you before.
Where to from here?
Telehealth offers many potential medical and social benefits. Particularly if you need to consult a doctor but don't need a physical examination.
In the past, doctors have used telehealth to improve health service access for regional and rural communities. But, as a result of the COVID-19 pandemic, telehealth has now gained broad acceptance. Even for those in metropolitan areas.
Social-distancing restrictions may be in place for many months to come. Which means telehealth will remain an important additional health service.
InstantScripts commits itself to providing you with quality telehealth in these uncertain times.
To speak with an InstantScripts GP: